NEWS FROM AROUND THE WORLD REGARDING TRUSTS, CONSERVATORSHIPS, AND ESTATES.
Last modified on 2011-04-12 18:34:36 GMT. 0 comments. Top.
Mar. 25, 2011 (Pittsburgh Post-Gazette) By, Rich Lord
Jason P. Unangst persuaded people to invest nearly $3 million in his plan to buy repossessed mobile homes and sell them to hurricane-ravaged areas — but never purchased so much as a single double-wide.
On Thursday, the Arizona man pleaded guilty in U.S. District Court in Pittsburgh to transporting property taken by fraud and money laundering.
Mr. Unangst confirmed to U.S. District Judge Arthur J. Schwab that he ran JPU Enterprises Inc., portrayed to investors as a firm that had an inside track with a finance company that was foreclosing on mobile homes.
Internal Revenue Service Special Agent Kevin Petrulak said that Mr. Unangst and collaborators "expressed to investors that they could buy mobile homes for pennies on the dollar," and promised 30 percent to 100 percent returns in just 60 to 180 days.
Read more here.
Last modified on 2010-05-03 22:11:24 GMT. 0 comments. Top.
The $250 million dollar advances and other payments for a March 2010 deal between the Michael Jackson Estate and Sony Records is just the icing on a cake that will delve through perpetual layers of sky-high royalty rates, licensing arrangements for films and television, and 10 recordings through 2017.
The deal comes on the tails of money-making strategies by estate executors for celebrities such as Elvis Presley and the Beatles who have reissued and reused old albums in new ways, generating major revenues across the entertainment board. Since Michael's death in August of 2009, 31 million copies of his music have been sold worldwide and last year alone Jackson was the biggest-selling artist in the United States.
Last modified on 2009-12-09 23:17:36 GMT. 1 comment. Top.
Courtesy of Reuters.com
By Kevin Drawbaugh and Andrew Hay
October 23, 2009
A U.S. estate tax bill is in the works and may arrive soon on the floor of the United States' House of Representatives, lower house Democratic Leader Steny Hoyer said on Friday.
"We would like to bring to the floor in the next few weeks, if not next week, a bill to deal with the estate tax issue," Hoyer said on the floor in discussions about the House's upcoming schedule.
The estate tax imposes a tax on the transfer of the assets of a deceased person to others. Known also as an inheritance tax, it has been a political flashpoint in recent years.
"If we don't act on the estate tax there will be a great cost next year," he said.
For the full article, click here.
Last modified on 2009-12-09 23:15:41 GMT. 0 comments. Top.
Courtesy of Reuters.com
By Lucia Mutikani and Dan Grebler
The worst U.S. economic recession in 70 years is forcing senior citizens out of retirement, leaving them fighting for jobs in a weak labor market or risk homelessness, according to a private study.
The study by Experience Works showed 46 percent of the 2,000 low income people over 55 years who participated needed to find work to keep their homes. Nearly half of them had been searching for work for more than a year.
"These people are at the age where they understandably thought their job-searching years were behind them," said Cynthia Metzler, president and CEO of Experience Works.
"But here they are, many in their 60s, 70s and beyond, desperate to find work so they can keep a roof over their heads and food on the table."
According to Labor Department data, there were 2 million unemployed workers over the age of 55 in August, an increase of 69 percent from the same period last year. Between August 2008 and August this year, the number of unemployed workers 75 years and older increased by 33 percent.
The unemployment rate among workers 55 years and older was 6.7 percent in August after shooting to a record 7.1 percent in July. The national unemployment rate was at 9.7 percent in August, the highest in 26 years.
The Experience Works study found that 46 percent of the elderly jobseekers were sometimes forced to choose between paying rent, buying food or medication. Almost three-quarters believed their age made it harder to compete for jobs with younger workers.
"This study underscores the need to create policies that remove barriers to employment for older workers and provide additional programs and services specifically aimed at helping older people re-enter the work force or remain working," said Metzler.
For the full article, click here.
Last modified on 2009-12-09 23:14:58 GMT. 2 comments. Top.

Published: October 8, 2009
The New York Times
"The son of Brooke Astor, the philanthropist and long-reigning matriarch of New York society, was convicted in Manhattan on Thursday on charges that he defrauded his mother and stole tens of millions of dollars from her as she suffered from Alzheimer's disease in the twilight of her life." (John Eligon, NYT)
Brooke Astor's son, Anthony Marshal was awarded Power of Attorney over some his mother's finances, while Mrs. Astor had been suffering from Alzheimer's disease. "But the kinds of financial requests and investments he made later mushroomed into a scandal involving accusations of elder abuse". (John Marshall Mantel, NYT) In 2006, Marshall's own son reported to the court that his father was enriching himself at the expense of his grandmother, not filling prescriptions, emptying her estate of valuable art work, and shortening her staff. Marshall's son formally requested that the court take away his father's guardianship rights and in 2007 Mrs. Astor died at the age of 105.
During a 19-week trial including over 18,000 pages of court transcripts, jurors found Mr. Marshall guilty of 14 counts of larceny and fraud, while rumors of elder abuse also shrouded the case. Mrs. Astor's incapacity was a key issue during the 12 day deliberation period that touched upon whether or not her son, Anthony Marshall, had been deliberately manipulating his mother for years before her death. Aristocrats Annette de la Renta and David Rockefeller had participated in the guardianship petition that first accused Mr. Marshall of mistreating his mother. Henry Kissinger and Barbara Walters where also among members of New York City's high-society who testified again Mr. Marshall for stealing millions, mostly to satisfy his acquisitive wife.
The convictions against Mr. Marshall were related to his posthumous attempts at changing her will and testament. One particular assault on Astor's $131 million estate was a court executed order for $60 million to be awarded to him in 2004. Another important issue was the subject of a $1 million raise he gave himself for the retroactive management of his mother's finances. Mr. Marshall faces a sentence of up to 25 years in prison but whether or not the 85 year old man will actually be incarcerated is unknown.
Last modified on 2009-12-09 23:13:34 GMT. 2 comments. Top.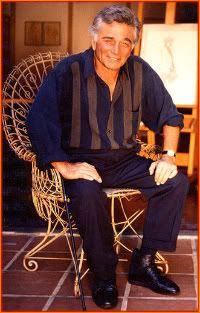 Popular 1970´s television actor, Peter Falk, continues to find himself in a bitter conservatorship battle between his wife, Shera Falk, and his adopted daughter, Catherine. The star of the hit TV series, Columbo, was diagnosed with Alzheimer´s this past winter and has been under the constant care of his wife and caregivers in their Beverly Hills home. Now suffering from advanced dementia and unable to remember his multiple Emmy Award winning role, perhaps Mr. Falk has been spared this bitter blame-game that has gotten the attention of international media outlets.
A May 2009 article in the L.A. Times, reported that Catherine Falk had taken the witness stand in a conservatorship trail against her step-mother Shera after filing in December of 2008. Recovering from hip surgery earlier that fall, Catherine claims her step-mother refused to allow her and her sister, who was also adopted in Falk´s first marriage, to see their father. According to his wife, Catherine reportedly had a contentious relationship with her father that involved at least one lawsuit over outstanding education costs. Shera has placed a press release on PeterFalk.com stating that Catherine was an estranged child and had violated her father´s privacy by filing the public petition with the Los Angeles Superior Court. Mrs. Falk´s attorney told reporters that the motive for Catherine´s interest in her father´s estate was for the courts to decide.
On June 1st, 2009, a Los Angeles judge awarded Shera Falk with full conservatorship rights over the person and the estate of Peter Falk while granting 30 minute bi-monthly visitation rights to Catherine Falk. Attorney´s on both sides agreed to allow Catherine to visit her father at a neighbor´s home, unaccompanied by Mrs. Falk, since the ruling did not allow her to go into his private home. It is not clear what actions Catherine may take in the future to be closer to her father.
Resources:
Kim, Victoria. Relatives fight for conservatorship…, L.A. Times, May 28, 2009
MacCartney, Anthony. Columbo actor, Peter Falk, placed in conservatorship., The Huffington Post, June 1, 2009